Serving
Lunch & Dinner

Daily!
Gourmet American Cuisine Est. 2021
Hours
LUNCH: Monday – Saturday 11:30 AM – 2:30 PM
DINNER: Sunday – Thursday 5 PM – 8 PM (Last reservation) / Friday – Saturday 5 PM – 9 PM (Last reservation)
HAPPY HOUR: Nightly 3 PM – 5:30 PM
SUNDAY BRUNCH: 11 AM – 3 PM
Location
800 Palm Trail, Delray Beach, FL 33483 George Bush Blvd. just west of the intercoastal
Delectable Dishes only at Palm Trail Grill
SMASH BURGER SUMMER
BASIC BURGER   17
American Cheese, Lettuce, Tomato, Pickle, Summer Sauce
add a Bloody Mary 23
STREET CORN BURGER   20
Street Corn, Crispy Blue Corn Tortilla Strips, Cotija Cheese, Creamy Cilantro Chili Sauce
add a Margarita   26
TIPSY BURGER   20
Drunken Goat Cheese, Fig Jam, Lettuce, Tomato, Pickle
add a Glass of House Red   26
BOURBON BURGER   20
Smoked Gouda Cheese, Bourbon Brown Sugar Bacon, Caramelized Onions, Lettuce, Tomato, Pickle
add an Old Fashioned   27
BEER BURGER   20
Beer Battered Onion Rings, House Made BBQ Sauce, Lettuce, Tomato, Pickle
add a Beer of Choice (excludes Chimay)  24
Delray Beach Restaurant
FREE PARKING - OUTSIDE DINING
Delectable Dishes only at Palm Trail Grill
OUR SPECIALTIES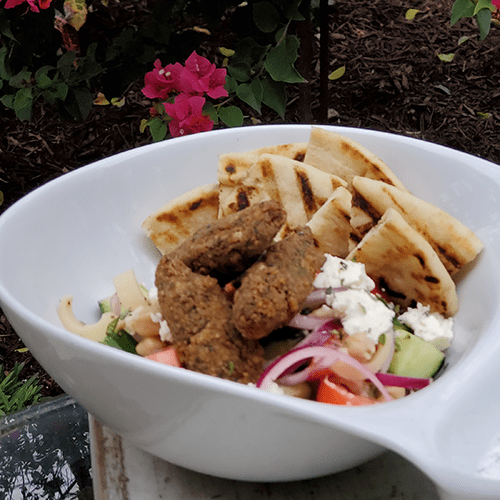 Cucumbers, Plum Tomatoes, Hearts of Palm, Red Onions, Kalamata Olives, Chickpeas, Feta Cheese, Organic Red Wine Vinegar, EVOO, Oregano, Falafel Croutons, Toasted Naan, Tzatziki: Individual 11 / To Share 17
Housemade Mozzarella, Beefsteak Tomatoes, Balsamic Reduction, Greek Olive Oil, Bathtub Basil
Loaded Baked Potato Eggrolls
15
Crispy Bacon, Cheddar Jack Cheese, Chives, Truffle Sour Cream
Key Lime Aioli, Microgreens
Baby Arugula, Beefsteak Tomato, Key Lime Aioli, Toasted Kaiser Roll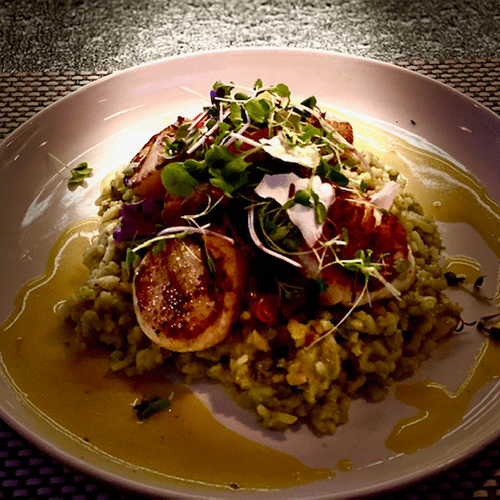 Herb Seared Scallops 🅖
44
Lemon and Grilled Artichoke Risotto, Beet Beurre Blanc
Wagyu Boneless Short Rib 🅖
40
Grilled Portobello Mushrooms, Roasted Garlic Spinach, Mashed Potatoes, Sauteed Wild Mushrooms
Housemade Chicpea Belgian Waffle, Chiffonade Romaine, Tomato, Cucumber, Kalamata Olives, Feta Cheese, topped with Grilled Chicken Paillard
3 Colossal Shrimp, Mushrooms, Caramelized Onions, Roasted Red Pepper, Topped with the Perfect Poached Egg (Brunch Item)
Delray Beach Restaurant Classics & Specialties
OUR MENUS
Enjoy Drinks & Food Right at the Bar
BAR BITES & SPECIALS
Peppered Pineapple Chicken Wings (8)
16
tempura jalapeno.
Loaded Baked Potato Eggrolls
15
crispy bacon, green onions, truffle sour cream.
crispy pancetta, parmesan, sunny side up egg.
Loaded Wagyu Short Rib Tots
18
cheddar & jack cheese, scallions, sour cream, avocado.
From 3pm to 5:30pm @ the bar
1/2 Price Drinks
Cocktails, Wine by the Glass & Beer
1/2 Price Bar Bites
Half off everything on the Bar Bites menu